Net als vorig jaar hielden we onze kamp. clubmatch weer in de grote 'halve' sporthal. We hadden zo voldoende ruimte voor de showring en voor de kleinere ring, waar keurmeester mw. Wil Schrander de aankeuringen voor fokgeschikheid deed. Keurmeester mrs. Jeanie Montford (Elvenhome kennel) kwam dit keer van de andere kant van de wereld en wel uit Australië. Zij kreeg 79 honden te keuren.
Nieuw dit keer was dat dierenarts/cardioloog Niek Beijerink zich deze dag beschikbaar had gesteld om de harten van de cavaliers te onderzoeken. Dit kon met de kleurendoppler of door ausculatie (laten beluisteren). Hiervan werd veel gebruik van gemaakt. Niek heeft in de 7 jaar die hij in Australië doorbracht heel veel Cavaliers onder zijn handen gehad, zodat hij met recht een specialist op dit gebied kan worden genoemd.

Na de individuele keuringen van de jongste puppyklassen (de baby's) werd het blenheim teefje
Hester van de Hoenhorst van fokker/eigenaar M. Hilhorst gekozen als Beste Jongste Puppy.
Bij de reuen en teven puppyklas werd als Beste Pup aangewezen het black and tan reutje 
Double Shot v.h. Boskamppad van fokker N. Roelofs en eigenaar B. Hoekstra.
De eindkeuringen:
Allereerst kwamen alle reuen in de ring. Hieruit koos keurmeester Jeanie Montford als Beste Reu
de blenheim uit de Kampioensklas Ch. Riverdale of An Excellent Choice  van fok/eig. N. Moonen.
Reserve Beste Reu werd de blenheim uit de Jeugdklas King for A Day of An Excellent Choice, eveneeens van fok/eig. N. Moonen.
Daarna kwamen alle honden met de I Uitmuntend kwalificatie uit de tevenklassen in de ring. Net als bij de reuen liet de keurmeester alle honden lopen om het gangwerk nog eens goed te kunnen bekijken. Als beste teef koos zij uit de Openklas de Blenheim Sweet Lake Superstar Be My Wish als Beste Teef van fok/eig. C.A. Walraven. 
De Reserve Beste teef kwam uit de Veteranenklas en dat was tricolour Lalixe van het Lamslag van
fok/eig. M. Hilhorst.  Na alle bloemen, felicitaties en foto's moest nu natuurlijk nog de Best in Show worden gekozen.
Deze titel en de titel Clubwinnaar 2018 viel ten eer aan de blenheim reu
Ch. Riverdale of An Excellent Choice
(Maibee Perfect Touch of Charnavale x Royal Kiss of An Excellent Choice)
fokker/eigenaar Natasja Moonen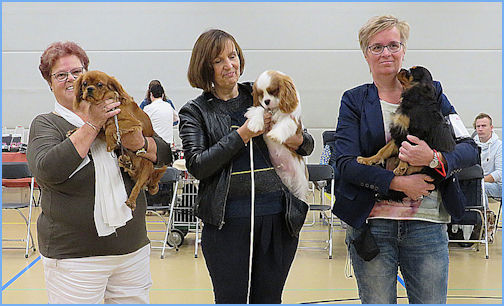 Reuen - Jongste Puppyklas - vlnr:
1 - Oakley Mailio Vom Landgrafenschloss - A. Soontiens
2 - Duncan Van Welfenhof - A. Wienk
3 - Oliviero Phineas Vom Landgrafenschloss - A. Soontiens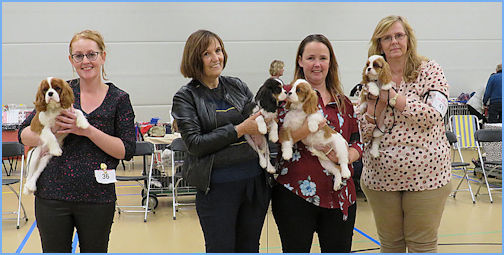 Teven - Jongste Puppyklas -vlnr:
1 - Hester van de Hoenhorst - M. Hilhorst
2 - Summer Love van Rachielia - A. Wienk
3 - Zinzy van Rachielia - A. Wienk
4 - Spring Beauty of The Cozy Cavaliers -P. van Zadelhoff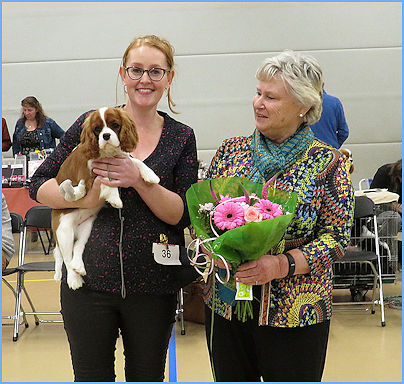 Beste Jongste Puppy (Baby)
 Hester van de Hoenhorst
 (Ch. Angel's Pride Gentleman x Coentje van de Hoenhorst)
Fok/eig. M. Hilhorst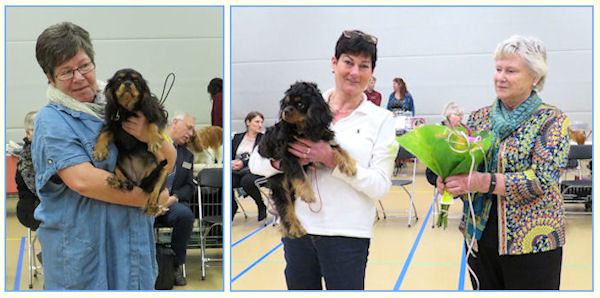 Vlnr: Teven Puppyklas
1. Royal Hero's All My Life - P. Voye en

 Reuen Puppyklas -
1. Double Shot v.h. Boskamp Pad, Beste Pup
(Tangledwood Little Big Shot x Chanell v.h Boskamp Pad)
Fok.N. Roelofs - Eig. B.Hoekstra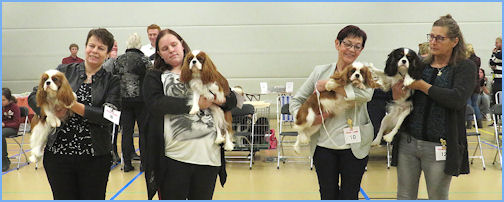 Reuen Jeugdklas vlnr.:
 1. King For A Day of An Excellent Choice - N. Moonen
 2. Djaxxon of An Excellent Choice - N. Moonen
 3. Thrue Love v.'t Burgstse Hof - R. Kavelaars-van Loenhout
 4. Mitapip Magical Perfection - R. Kavelaars-van Loenhout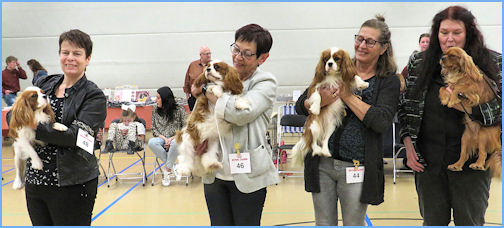 Teven Jeugdklas vlnr:
 1. Kiss Katniss of An Excellent Choice - N. Moonen
 2. Blue Velvet v.'t Burgstse Hof - R. Kavelaars-van Loenhout
 3. Little Backroad's Mila - Y. Zijp
 4. Royal Hero's You Are My Starshin - P. Voye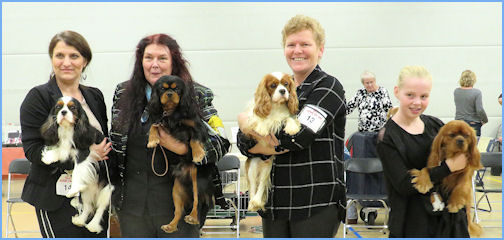 Reuen Tussenklas vlnr:
1. Onitsah's Monopoly - S.Frankenberg
2. Royal Hero's Undercover Diamont - P. Voye
3.Jay Jay Leonies Toppers -  L. Zieverink
4. Zenek vom Paulinenhof - W.H.van Lenthe-Polak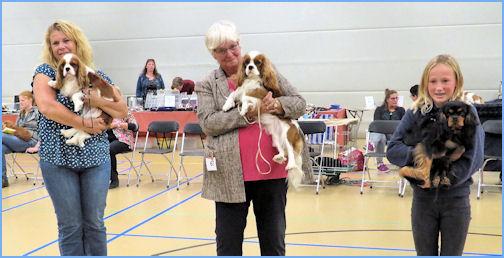 Teven Tussenklas, vlnr:
1. Amber Queen v. Ludmilla - J.Bakker
2. Sweet Lake Superstar Spring Flower - C.A. Walraven
3. Little Backroad's Jebel - Y. Zijp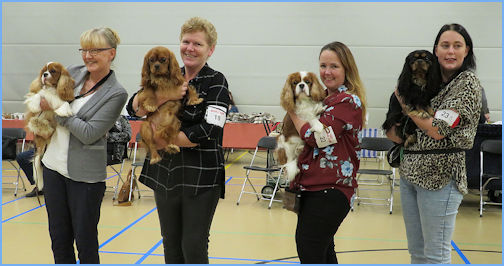 Reuen Openklas vlnr:
1.Quick Step vom Welfenhof - S. Frankenberg
  2. Trots Leonies Toppers - L. Zieverink
  3.  Butterscotch van Rachielia - E. de Leede
  4. All That Jazz Spark of Hope - C.Markerink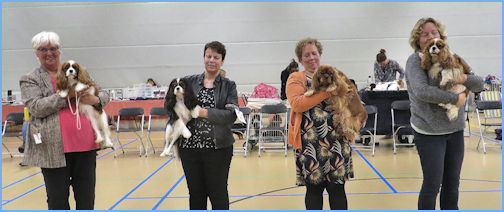 Teven Openklas vlnr:
1. Sweet Lake Superstar Be My Wish - C.A. Walraven
  2. I'm No Angel of An Excellent Choice -- N.Moonen
  3. Ora van 't Zwart Water - K. van Gompel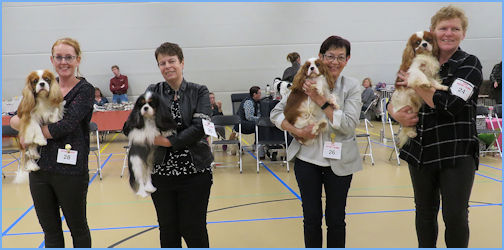 Reuen Fokkersklas,.vlnr:
1. Floris van de Hoenhorst - M. Hilhorst
2. Womanizer of An Excellent    Choice -  N. Moonen
3. Licence To Kill v.'t Burgstse Hof - R. Kavelaars-v.Loenhout
4. Chico Leonies Toppers - L. Zieverink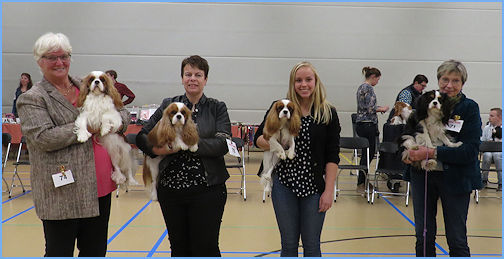 Teven Fokkersklas, vlnr:
1. Sweet Lake Superstar Be The One - C. Walraven
 2. What About Me of An Excellent Choice - N. Moonen
 3. Caitlinn Van De Hoenhorst - M. Hilhorst
 4. Julie Ann v. Dorlinco - C.H.Kok-van Hoften




Kampioensklas, vlnr:
Reuen - vlnr: 1. Ch. Riverdale Of An Excellent Choice - N. Moonen
2. Ch. Rhytm and Blues v.'t Burgstse Hof - R. Kavelaars-v. Loenhout
3. Ch. Sound Of Passion Agent Black Hero - P. Voye
Teven :
1. Magic Pearl v.h. Molenhof Maltia - K. van Gompel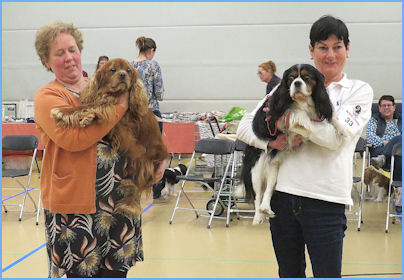 Veteranenklas reuen, vlnr:
1. Hogan van 't Zwart Water - K. van Gompel
2. Sjef From House of Friendship - B. Hoeksema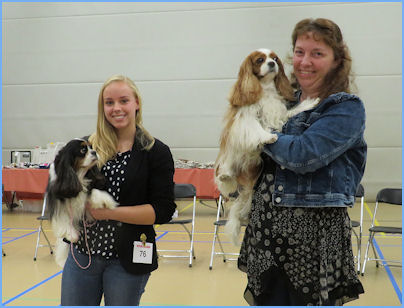 Veteranenklas teven, vlnr:
1. Lalixe van het Lamslag - M. Hilhorst
2. Birgid of The Yellow Rose - K. de Beijer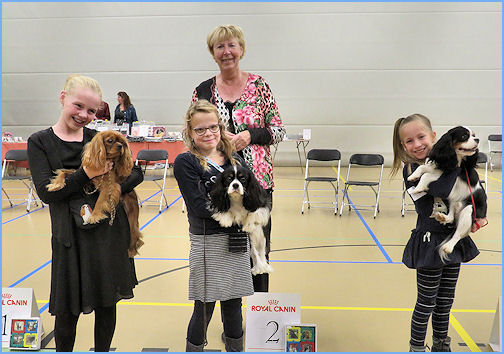 Juniorhandling, vlnr:
1. Lize Noeverman (12 jr) met Vanilla du Chateau Noblesse
2. Michelle Oerlemans(11 jr) met Kiss Katniss of An Excellent Choice
3. Jinney met Riverdale Pippa of Karel Edouards
Keurmeester: mw. Wil Schrander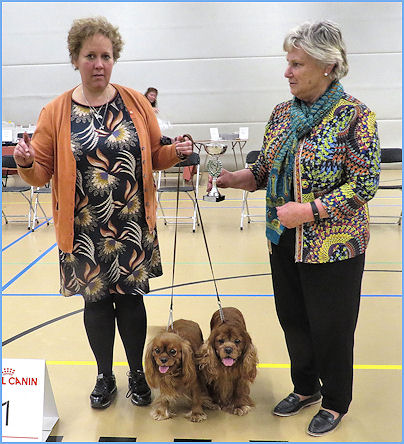 Koppelklas
1. Hogan en Ora van 't Zwart Water - eig. K. van Gompel




Vlnr: Beste reu Ch. Riverdale Of An Excellent Choice  
Reserve/Beste reu King For A Day of An Excellent Choice. Beide honden van eig. N. Moonen
 
Beste teef Sweet Lake Superstar Be My Wish - C.A. Walraven
Reserve Beste teef Lalixe van het Lamslag - M. Hilhorst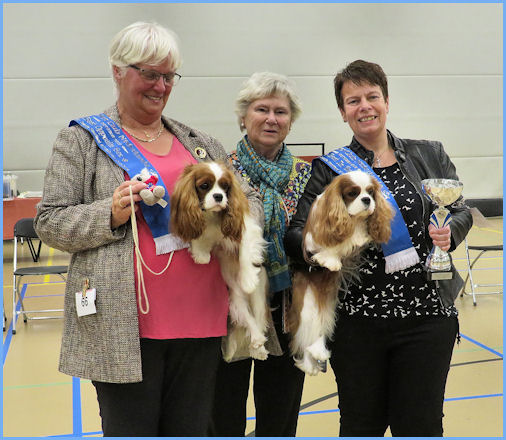 Vlnr:  Sweet Lake Superstar Be My Wish
(CH Riverdale Of An Exellent Choice  x CH Sweet Lake Superstar Eye Catcher)
Fok/eig. C.A. Walraven
BESTE TEEF - BOS
Ch. Riverdale Of An Excellent Choice
(Maibee Perfect Touch of Charnavale x Ch. Royal Kiss of An Excellent Choice)
fok/eig. N. Moonen
BESTE REU - BEST IN SHOW
CLUBWINNAAR 2018