Het duurde even voordat de inschrijvingen op gang kwamen maar uiteindelijk waren er toch 44 Cavaliers die gekeurd konden worden door keurmeester Dick Baars.
Nadat onze voorzitter, mw. Alida Lafleur om 10 uur de opening had verricht en keurmeester Dick Baars en ringmeester mw. Ilona Lodders had voorgesteld kon begonnen worden met de keuringen.
Tegelijkertijd werden op het podium van de zaal de aankeuringen gedaan door keurmeester
mw. Wil Schrander en ringmeester/schrijver mw. Ria Kavelaars.
De reuen waren het eerste aan de beurt en zoals gebruikelijk verliep de keuring van jong naar oud. Nadat alle reuen individueel gekeurd waren werd uit deze groep meteen de Beste en Res.Beste reu gekozen. Hiervoor kwamen alle reuen terug in de ring en plaatste keurmeester Dick Baars de blenheim reu Ch.Kiss and Ride of an Excellent Choice van fok/eig. N.Moonen uit de Kampioensklas als Beste Reu. Reserve reu werd de blenheim reu uit de Veteranenklas Ch. Ydo van Buruf van fok/eig. P Burema
Vervolgens werden alle teven gekeurd en werd het blenheim teefje uit de fokkersklas Brianne of An Excellent Choice Beste Teef en Res. Beste teef werd de blenheim Untamed Love of An Excellent Choice. Beide honden van fok/eig. N. Moonen
Beste Baby werd het black and tan teefje Swobie van het IJsselmeernest van fokker E.van Wissen en eigenaar Y. Zyp-Bruin.
Beste Pup werd het blenheim teefje Babette of An Excellent Choice van fokker/eigenaar N. Moonen.
Voor de Juniorhandling waren er 3 inschrijvingen.
Nr. 1 werd Nova Ekkelkamp met het ruby teefje Vhilou my Pearl From the Springfarm.
Er waren voor de koppelklas 3 koppels. Hier werd door de keurmeester het blenheim koppel
Blue-River Pippa of Karel Edouards en Enchanting Companion Touch of Happiness
van Mw. A. Soontiens op de 1e plaats gezet.
Het laatste onderdeel van deze gezellige dag was natuurlijk de verkiezing van de Beste Hond van deze kamp. Clubmatch. Hiervoor kwamen de Beste reu en Beste teef terug in de ring, waarbij de blenheim reu
Ch.Kiss and Ride of an Excellent Choice werd gekozen tot Clubwinnaar en  Best in Show.
Het aller, allerlaatste onderdeel was de verkiezing van de Beste Veteraan.
Deze eretitel ging  naar de Res. Beste blenheim reu Ch. Ydo van Buruf van fok/eig. P.Burema.
Wij danken iedereen die heeft meegeholpen deze dag een succes te maken. Natuurlijk willen wij ook onze sponsor Biofood danken dat zij ook deze keer weer onze hoofdsponsor wilden zijn.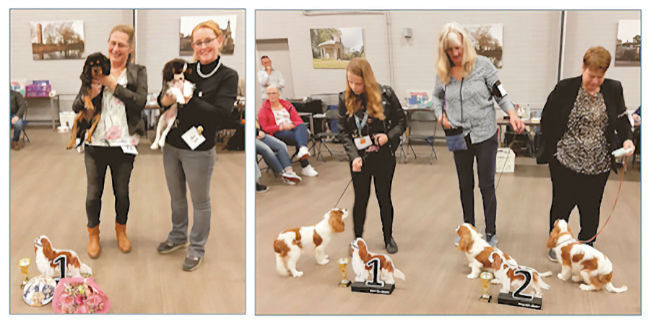 v.l.n.r. Babyklas teven: 1e - Swobie v.h. IJsselmeernest (BESTE BABY), 2e - Holly v.d. Hoenhorst
2e foto - Puppyklas teven: 1e - Babette of An Excellent Choice, 2e - A Girl like me of An Excellent Choice, 
3e - Bindy of An Excellent Choice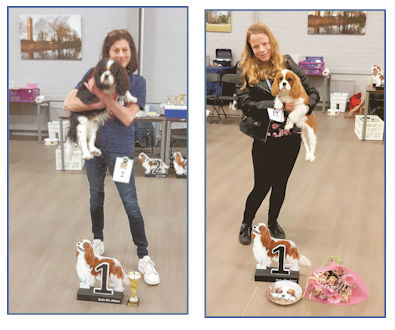 v.l.n.r.: Puppyklas reuen: 1e - Kiss Me Quick v. Rola's Roedel (Lowie)
Puppyklas teven: Babette of An Excellent Choice BESTE PUP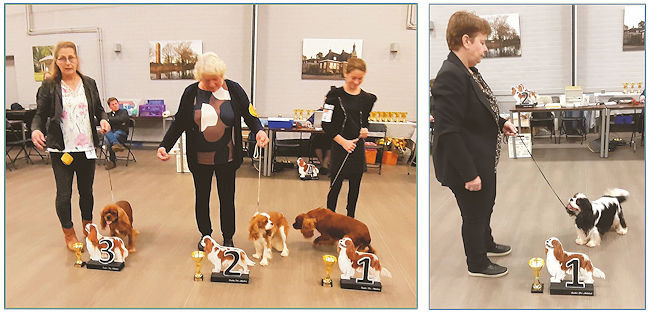 v.r.n.l.: Jeugdklas reuen: 1e - Tygo v.h. Boskamppad, 2e - Trusties Personality, 3e Little Backroad's Harm
2e foto: Tussenklas reuen: 1e Wannabe Wild of An Excellent Choice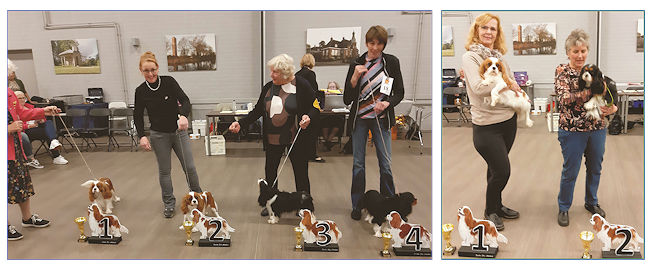 v.l.n.r. 1e foto Jeugdklas teven: 1e - Sweet Lake Superstar Make Me Smile, 2e - Charlotte v.d. Hoenhorst,
3e - Trusties Precious Princess, 4e - Bente v.d. Hoenhorst
2e foto Tussenklas teven: 1e - My Fair Lady of The Cozy Cavaliers, 2e - Little Backroad's Molly

v.r.n.l. 1e foto Openklas reuen: 1e - Ravi v.d. Hoenhorst, 2e - Vharon Perfect from The Springfarm,
3e - Trusties Fortis Fairly. 
2e foto Fokkersklas reuen: 1e - Chicago from The Springfarm, 2e - Blue River Pipa of Karel Edouards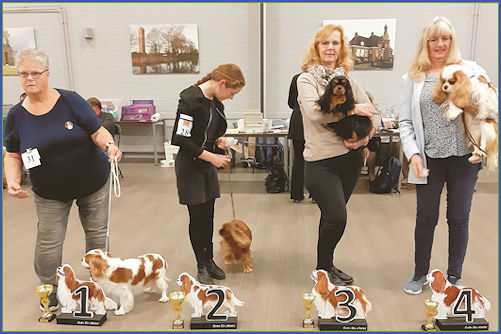 Openklas teven: v.l.n.r. 1e - Enchanting Companion Touch of Happiness, 2e - Vhilou My Pearl from The Springfarm,
3e - Stars at Night of the Cozy Cavaliers, 4e - Forever Young v.Rola's Roedel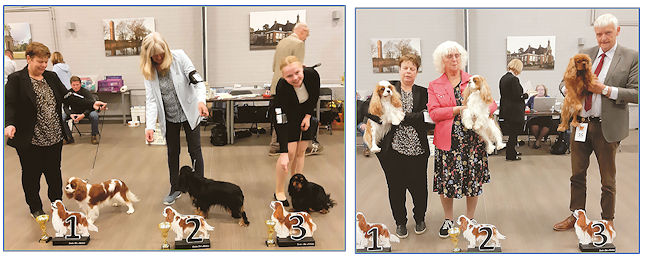 v.l.n.r. Fokkersklas teven: 1e - Brianna of An Excellent Choice (CAC), 2e - Sweet As Candy v. Rola's Roedel,
3e - El Perfecto du Chaateau Noblesse.
2e foto Kampioensklas teven: 1e - Ch. Untamed Love of An Excellent Choice (Res.CAC)
2e - Multi Ch. Sweet Lake Superstar Be The One, 3e - Ch. Peggy v.h. Boskamppad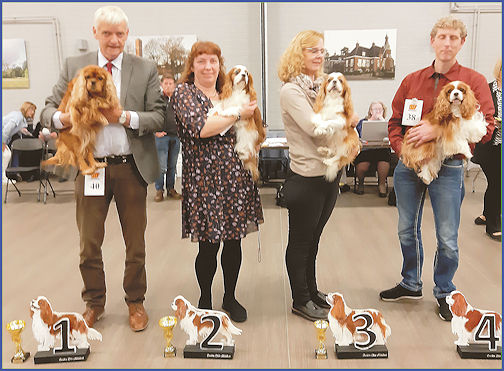 Veteranenklas teven: v.l.n.r. 1e - Venus v.h. Boskamppad, 2e - Wonderfull from Floor v. Ludmilla, 
3e - Hazel off A Little Playmate, 4e - Olivia Rose v. 't Burgstse Hof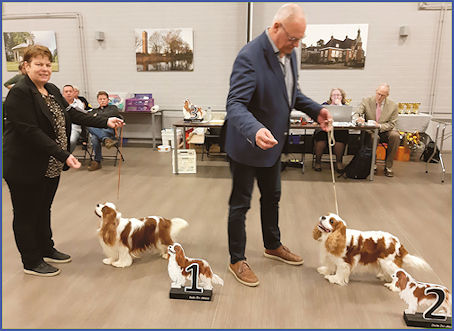 Kampioensklas reuen: 1e - Ch. Kiss and Ride of An Excellent Choice (CAC en BOB)
2e - Ch. Liane's King of My Heart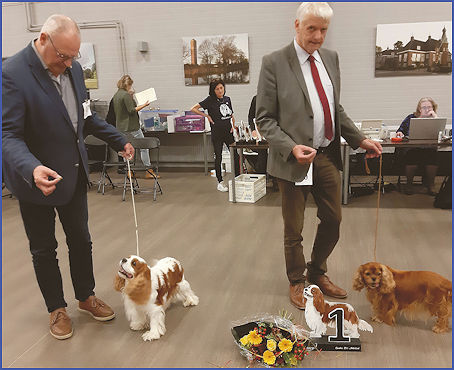 Veteranenklas reuen: v.l.n.r. 1e - Ch. Ydo van Buruf (Res.CAC en Beste Veteraan)
Veteranenklas teven: 1e - Venus v.h. Boskamppad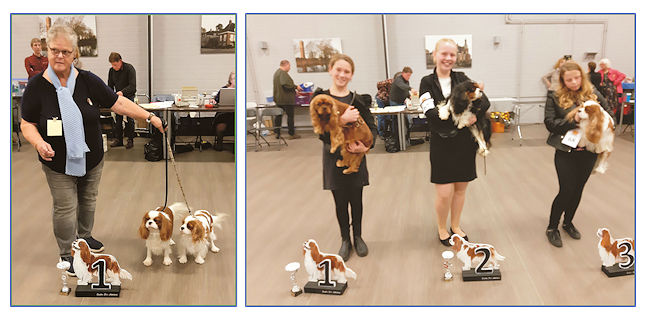 V.l.n.r.: Koppelklas: 1e - Koppel blenheims van Mw. Anja Soontiens : Enchanting Companion Touch of Happiness en
Blue River Pipa of Karel Edouards

Junior Handling:
1 - Nova Ekkelkamp met Vhilou my Pearl From the Springfarm 
2 - Lize Noeverman met Vharon Perfect from the Springfarm 
3 - Michelle Oerlemans met Kiss and Ride of an Excellent Choice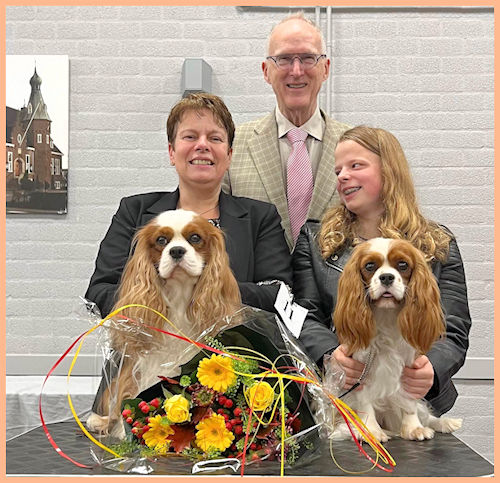 Best in Show en Clubwinnaar 2022
Ch. KISS AND RIDE OF AN EXCELLENT CHOICE
Ch.Onitsha's Monopoly x Ch. Kiss and Tell of An Excellent Choice
fok/eig. Natasja Moonen
Keurmeester Dick Baars en dochter Michelle met
Beste teef Brianna of An Excellent Choice 
River Lee of An Excellent Choice X Kiss Intense of An Excellent Choice